Hi Delcampers,
I'd just like to say hello to everyone. This is my first entry on luthiers box and I want to share my new experience with you all.
After a few years of making guitars, the idea about double top guitar has been in my mind (since 2010). On the Lunar new year holiday, I spent lots of time on google reading delcampers's posts. I decided to stop thinking about double top and start experimenting with it. I followed the idea of Frederich Holtier luthier on making solid wood double top guitars.
I don't want to pay for the "expensive" top on this experiment. So, I started with the dark color Red Cedar top that costs around $1.5, well quarter sawn.
The first cuts are 2000 holes on the CNC with 4.5 mm diameter and 1mm depth. It took 3 hours on 4mm end mill. The top thickness is 2.2mm in the lower bout and 2.5mm in the upper bout. The "Honeycomb" gaps are 2mm. The weight reduction is 100 grams compared to 111 grams. It didn't achieve my weight loss goal and I lost the top stiffness. It bends like a rubber top.
$1.5 was left on the wall for decoration.
I was scraping the binding while the CNC machine was making noise.
.
Then I tried it with a new top, changed the honeycombs composition a little bit. It's now 4.5 mm in diameter, 1.3mm depth. The gaps are reduced to 1mm with 2600 holes. I left the top plate at 2.5mm thick. The final results are 17 grams weight loss. The top is now 103 grams. It's 0.32 Western Red Cedar.
This photo is showing the original (bottom) and the new (top) design: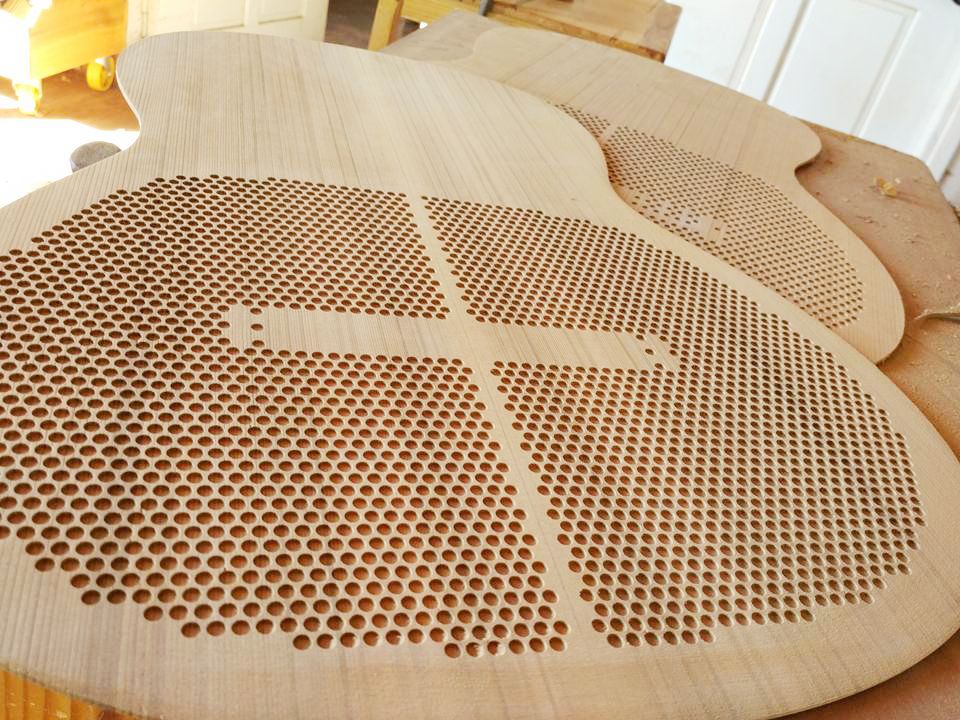 Then I glued some Red Cedar fire wood (4 pieces) at a 5 degree angle and planed it down to 1.8 mm for the inner skin. This plate weights 51 grams (0.385). I want to use 0.5mm skin so It should be 13 grams after planing and sanding. The gluing surface would add a few grams. The final top is 120 grams at 3mm thickness in the lower bout.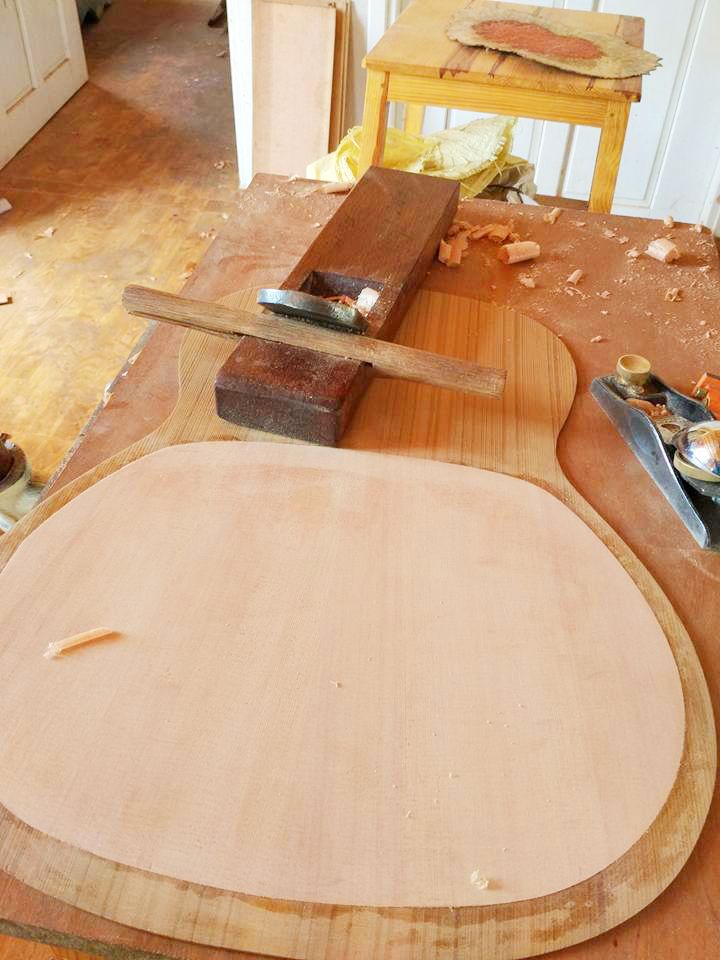 After gluing the skins, the top was a real surprise. Now I understand why Frederich added one transverse bar on the top and how it works. At this weight and thickness, the top is so much stronger than the another 2.2-2.3mm, 0.36 Red Cedar and the weight is almost equal. I have the 2.6mm Englemann plate (0.365) and compared their stiffness (by hand) while I planed down the outer skin to 0.8-0.9 mm. The plate is 2.7mm in the lower bout, 2.5mm in the upper bout. The weight is 110 grams.
This image is showing the Red Cedar (0.36). By adding "2.mm" in front of the numbers, you will get the correct dimension.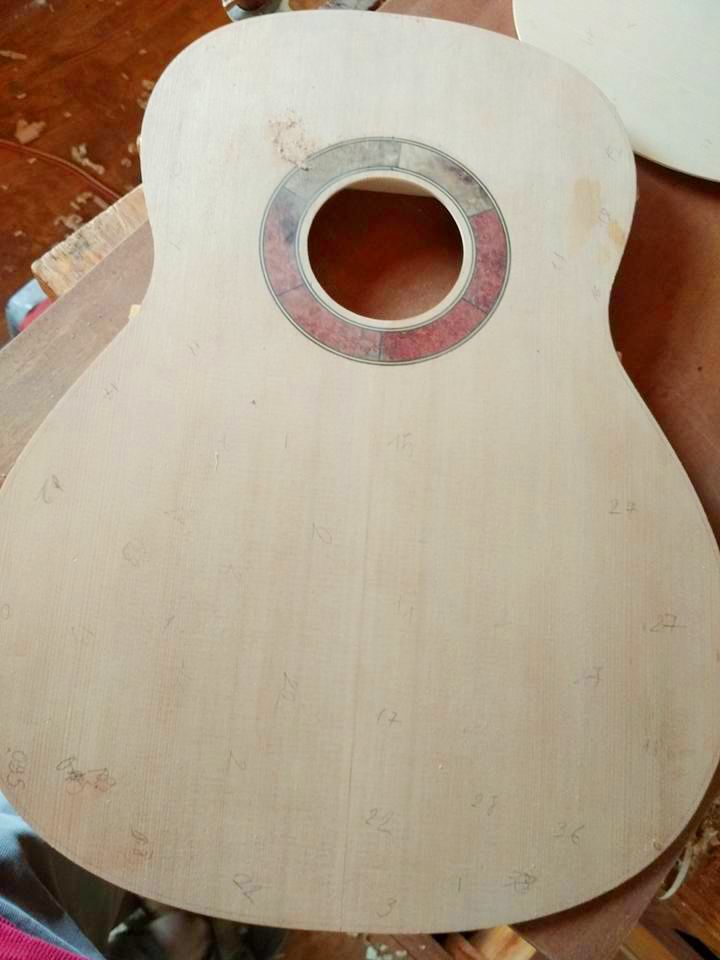 I left it as a successful test. But the top is so cheap and I want to make another one using the costly top. But wait, on decamlp, there is a story:
The thread "Making a < -$100 classical guitar" by Arnt Rian made me think about making under $100 guitar with this double top. Which is $1.5. It's stronger and much lighter than my $135 top from LMII (AAA Italian spruce, 0.4, weight 142g at 2-2.5 mm).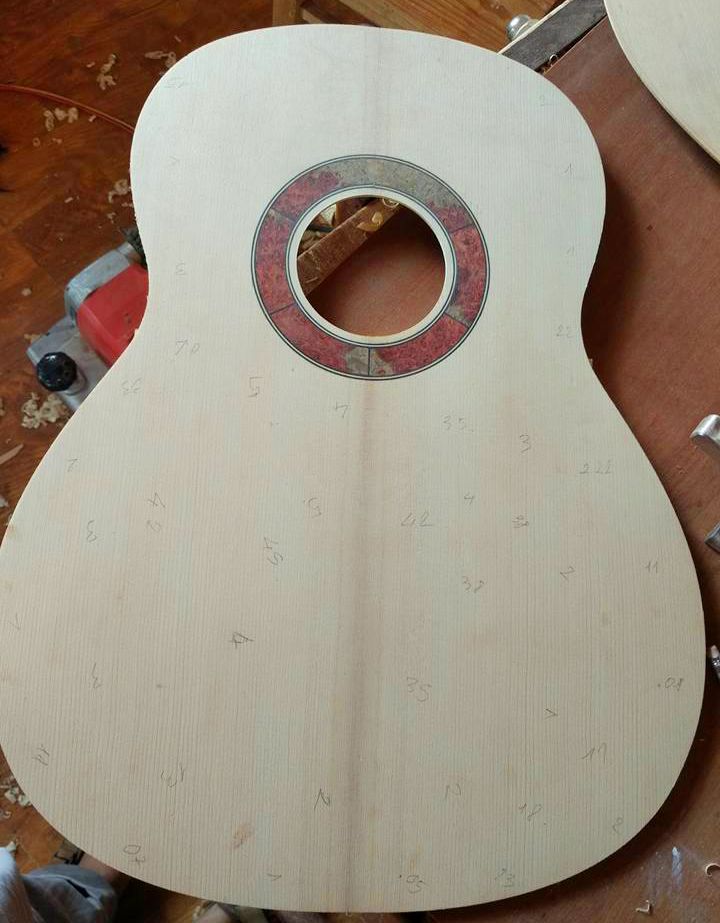 One of my clients rejected the back and sides in the shop. This set cost me about $20 in 2009 from a local luthier. He told me it's Red Trắc wood (Dalbergia Cochinchinensis)
The reason my previous client rejected the original set was because, according to him, it was too thin.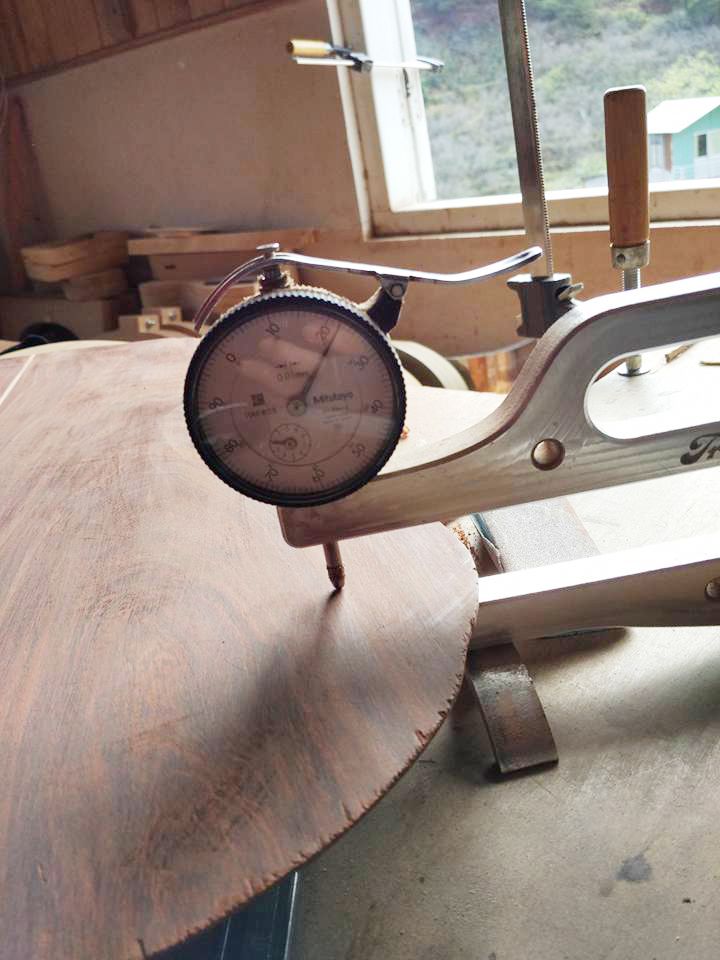 This back is 400 grams at this dimension with a high density rosewood.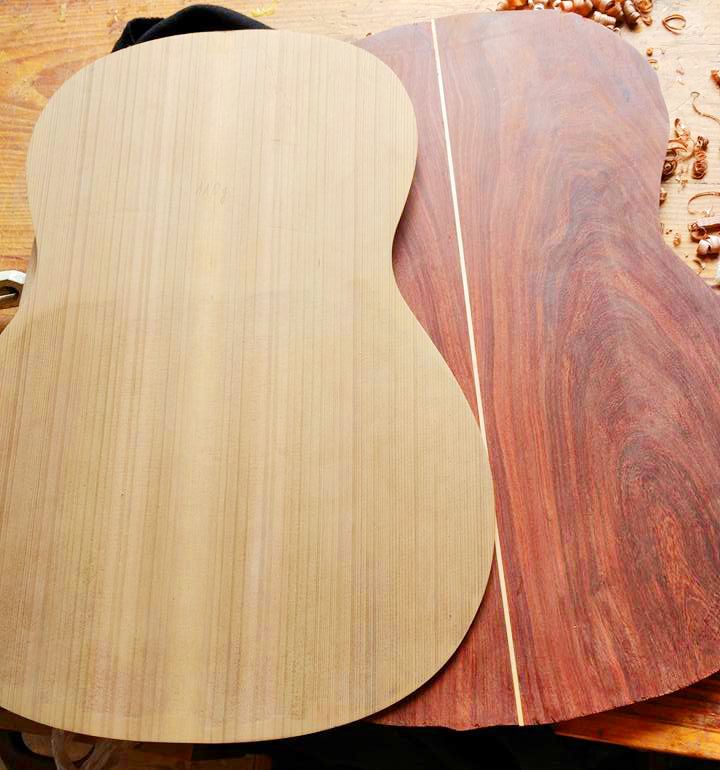 The picky client rejecting my original set turn out to be a happy accident for my new <$100 double top guitar project.
To be continued....
Vu Tran